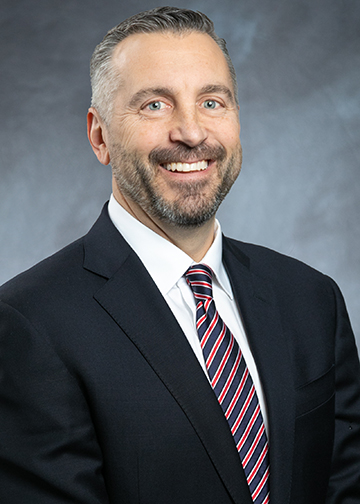 Jerry Hendricks
Portfolio Manager
Three Key Data Points You Need Know This Week
11/30/2023
1. Money Market Fund Flows Point to an Active 2024.
Money market funds reached a total AUM fresh high as of November 21st and are now on the cusp of +$1 trillion inflows YTD – a 3 to 1 ratio vs. equity ETFs.

We believe the lack of conviction elsewhere has flows continuing into mega cap names, with the 5 largest names in the S&P 500 accounting for over 25% of the index's weight.

Search for diversification in the new year could lead investors to seek out active ETFs, particularly if performance of mega caps stalls or money market rates dip.
​
Source: Strategas Securities and Bloomberg LP , as of November 21, 2023
Strategas Asset Management provides investors seeking active ETFs with two options - the Strategas Global Policy Opportunities ETF (ticker: SAGP) and the Strategas Macro Thematic Opportunities ETF (ticker: SAMT). Both actively managed funds employ thematic rotation within their products, providing investors an opportunity to remain invested in lieu of trading in and out of a single themed product.
2. Watching the Impact of Rising Interest Costs on 2024 Earnings.
Historically, interest expense as a percent of sales averaged about 3.8% from 1994 – 2007 compared to just 2% from 2008 to 2021.

Ultimately, the pace of the interest rate rise will determine the impact on profits largely because companies, broadly speaking, termed out their debt.

Our analysis shows that a basket of companies with the highest interest expense as a percentage of sales underperformed those with the lowest interest expense as a percentage of sales during 2023.

Contrary to what we have witnessed year to date, the constant tug of war between multiple expansion and earnings growth usually results in lower multiple expansion given where the current levels of inflation and interest rates are.
Source: Bloomberg LP and Strategas Securities, as of November 22, 2023
3. 2024: The Year the Election and Restrictive Policy Collide.
Current Federal Reserve policy remains restrictive, albeit on a pause.

History shows that a recession less 2024 is vital for Biden's re-election campaign.

What to watch:

Normally once rate cuts occur, the recession is upon us, and the market has begun to sell off: both could be detrimental to a re-election campaign and could add to normal policy uncertainty should the current administration attempt to juice the economy in the short term.
Source: Economic Policy Uncertainty and Strategas Securities, as of November 15, 2023
For additional information on Strategas Asset Management, how to access our research or our other investment solutions please visit our website: https://www.strategasasset.com/ or reach out to Patrick Rista, prista@strategasasset.com / (646) 292-7984.
Past performance is not indicative of future results.
Shares of any ETF are generally bought and sold at market price (not NAV) and are not individually redeemed from the fund. Brokerage commissions will reduce returns. Indices are unmanaged and do not include the effect of fees, expenses or sales charges. One cannot invest directly in an index.
This communication was prepared by Strategas Asset Management, LLC ("we" or "us" or "our"). This communication represents our views as of 11/24/2023, which are subject to change. The information contained herein has been obtained from sources we believe to be reliable, but no guarantee of accuracy can be made. This communication is provided for informational purposes only and should not be construed as an offer, recommendation, nor solicitation to buy or sell any specific security, strategy, or investment product. This communication does not constitute, nor should it be regarded as, investment research or a research report or securities recommendation and it does not provide information reasonably sufficient upon which to base an investment decision. This is not a complete analysis of every material fact regarding any company, industry, or security. Additional analysis would be required to make an investment decision. This communication is not based on the investment objectives, strategies, goals, financial circumstances, needs or risk tolerance of any particular client and is not presented as suitable to any other particular client. Past performance does not guarantee future results. All investments carry some level of risk, including loss of principal.

Strategas Asset Management, LLC is an SEC Registered Investment Adviser affiliated with Strategas Securities, LLC, a broker-dealer and FINRA member firm, and an SEC Registered Investment Adviser. Both Strategas Asset Management, LLC and Strategas Securities, LLC are affiliated with Robert W. Baird & Co. Incorporated ("Baird"), a broker-dealer and FINRA member firm, and an SEC Registered Investment Adviser, although the firms conduct separate and distinct businesses.
Investing involves risk, including possible loss of principal.
Holdings are subject to change. Current and future holdings are subject to risk.